Hi everyone
This is the Post-Mortem for Newton and Fig Tree, my platformer developed for CDN's 3rd annual speed-comp (or 1st annual if you don't count CCN).
What made it in and didn't turn out half bad...
Christian content:
Even though not only all of my initial ideas were completely God-grounded, I believe God had mercy and turned them around for the better, the quote "an apple doesn't fall far from the tree" isn't a Biblical quote but I believe God showed me ideas of how to work the gospel into it. And I hope I was able to create a game that isn't overtly religious but has an underlying messianic message, and not just a connection to proverbs. I give Jesus all of the glory for that, if that is true.
Graphics:
I started on the graphics as soon as the competition started. It didn't take me long to make any of the initial models, though I most proud of the Newton and Locust models.
What didn't make it in the final cut...
Enemies:
I really wanted to expand one of the enemies, which was the caterpillar, I wanted to make it split into smaller enemies when you would destroy it, which you would have to destroy, but the problems with the enemy collision algorithm were too great then I wanted to deal with, so I dumbed him down to just a one hit enemy.
I also had an alternate boss planned. It was to be a sarlaac-esque giant worm with a bunch of teeth (image below), but I couldn't think of any good boss mechanics for him (I mean, come one, he's a worm), he was too much like my already planned Caterpillar enemy. I also didn't feel the nature of the enemy fit the rest of the light-hearted nature of the game. I got an idea though about defeating the worm by pushing a rock on his head, but there were some problems with that.
So I prayed to Jesus, that if there's a way I can make the worm enemy's gameplay better please give me guidance, then not too long after I got the idea for the locust, and lots more gameplay ideas sprung from that, plus it fit better in with the "leeching" storyline of the insects, being that locusts are commonly depicted of taking crops and such.
(Alternate Final Boss)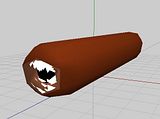 Polish:
I really wanted to make an idle animation for Newton, and shadows for Newton and the platforms, but they didn't make it in. I would've at least gave Newton a shadow, but I don't have the best ideas at this moment of how to make a really comprehensive shadow.
Conclusion:
Overall, I am just happy I got the game out there in time, and I still was able to retain alot of the story and gameplay elements I wanted. I feel I've completed a small, but complete game, and that's pretty rare for me.
I was happy I got to the bug fixing part so soon, what I do usually is I make the basic parts of the game, I code it in, then I get to the "bug fixing" stage and there I fix all of the problems with intial coding and details.
That might sound easy, but from all of the bug fixes I had to make and the issues simply not being resolved, I almost gave up on this project (mostly from problems with the enemies), so I stopped devving for a few days, but when I came back I had a new perspective and just focused on what I really needed to complete this game and get it out there, since I got most of it done. I think this proves that sometimes you need a break! haha
In Christ,
LAVA